Join us for the 11th annual REDTalks event on Thursday, April 13, at Brave New Workshop. Doors open at 5:30 p.m.. Show begins at 6 p.m.

What is REDTalks?
REDTalks is a high-energy learning event that brings together Bennie and Johnnie fun and camaraderie with fast-paced talks brought to you by passionate leaders and storytellers from our CSB and SJU community.
 
This year's show will feature fun, short and engaging talks, from captivating CSB and SJU students, faculty, staff and alums. Learn more about this year's lineup below! 

Purchase show tickets below. Early-bird ticket pricing is available through March 31.
Early Bird Alum & Friends Ticket - $15
Alum & Friends Ticket after March 31 - $18
Student Ticket - $5
Parking info: The venue is within easy walking distance of 10th & Hennepin Municipal Ramp (under the FAIR School building), Hawthorne Municipal Ramp, LaSalle Plaza Parking Garage, and LaSalle @ 10th Ramp.

Brian McCann '17
My passion is learning and honing my leadership through being the best player-coach I can. I've done this since my early days in sports, as former captain of SJU Wrestling team, and more recently in my 3 years of executive recruiting experience and part time career as a CrossFit Coach. What gives me light is to sell anyone I am working alongside on what their potential really is and working on it with them. The most important thing I have learned is how much everyone wants a partner and ally versus just a friend, a coworker, or simply clients paying for a recruiting service. My mission in the recruitment industry is living, coaching, and delivering the message: "Partner with our clients and candidates to help them realize their potential. Whether they know it or not, they want a partner and that person is you." Being former captain of SJU wrestling, I do have a passion for leadership and hard work. My dream is to one day speak on a larger stage on a topic along the lines of leadership, partnership, and/or business development. My journey is well on its way, but in many ways just beginning and looking forward to the future.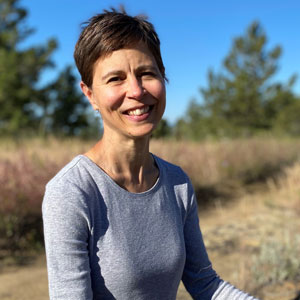 Betsy Johnson
"The Three Things I Learned When My Life Went Sideways."
Betsy Johnson has taught in the English and Communication Departments at CSB and SJU for sixteen years. Her classes include Interpersonal Communication, Group Communication, Creative Writing and a literature course on men, women and aliens. She recently finished writing two poetry manuscripts, from the moon queen's mouth and Awake to the Ordinary. She has published five books and her meditations on the Insight Timer app have been downloaded over 200,000 times.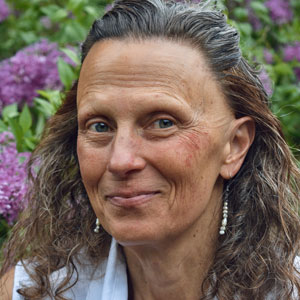 Michelle Mary Lelwica '86
"Why You Should Abandon the Religion of Thinness"
As a college professor, Michelle's scholarly work has focused on challenging oppressive body/gender norms. Rigidly defined ideas and ideals that encourage women to measure their worth based on their physical appearance compromise many women's abilities to develop their true potential. Popular body/gender norms encourage us to channel our moral energy into the project of "fixing" our bodies rather than influencing and repairing the world. Michelle credits her own stellar education at CSB for helping her develop the critical thinking skills she needed to transform her own teenage body image obsession into energy she now uses to encourage her students (and all people) to see beauty in diversity, to discover perfection in imperfection, and to pursue a sense of purpose focused on something larger than improving their body.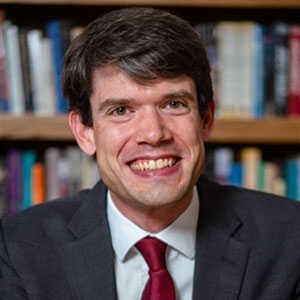 Michael Rubbelke '08
"Seeing the Unseen: The Eyes of Faith"
Michael's graduate studies led him to the University of Notre Dame, where he earned his master of theological studies and Ph.D. degrees in systematic theology. He is currently an assistant professor of spirituality and monastic studies in the Saint John's School of Theology and Seminary. While books delight and inspire him, his wife Rebecca and their children Hannah (7) and Caleb (4) teach him more than he can say.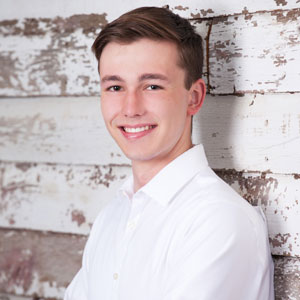 Cole Davies '25
Cole is a current Johnnie, class of 2025, majoring in Computer Science. Shortly after turning 15, he began suffering from severe seizures and has been on a difficult journey ever since. Despite this shocking condition he is living a successful life as a college sophomore. He frequently is seen walking around campus with his black lab, Bronson—who often sports a Johnnie red vest. Through his positive disposition Cole strives to help others and make an impact in his surrounding community. This past year he began serving on the board of the Epilepsy Foundation of Minnesota and was a featured speaker at two philanthropic events: Canines' Black-Tie Gala and Fetching Ball. With his quick wit and the ability to captivate an audience with energy and emotion, Cole is ready for any challenge that comes his way!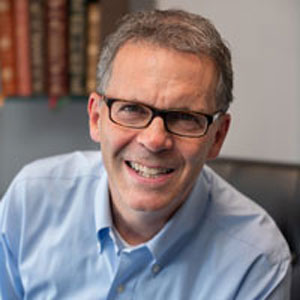 Joe Cavanaugh '81
"Humanizing our community thru leadership and character"
Joe is a nationally-renowned speaker promoting timeless values and personal character to audiences of all ages. Whether it is at the Nobel Peace Prize Forum, a commencement speech at his alma mater, a conference with business leaders, or in a room filled with 200 teenagers, Joe loves to be in front of a crowd sharing the message that character matters. Joe received his B.A. degree in Humanities from Saint John's University in Collegeville, Minn., where he also was given an Honorary Doctorate in 2016. He was also named Social Entrepreneur of the Year by Saint John's in 2012. Joe and his wife, Jane, live in Edina, Minn., with their teenage daughter, Tess.